Community 'Learn to Ski' Nights
6:00PM – 8:30PM on the following dates:
Wednesday, July 6th, 2016 @ Southwood Lake
Wednesday, July 13th, 2016 @ Sunset Lake
Wednesday, July 20th, 2016 @ Southwood Lake
Wednesday, July 27th, 2016 @ Sunset Lake
Each participant must fill out a waiver form. Complete your FAMILY or ADULT waivers at home, print, & bring with you, OR arrive early to complete yours before skiing.
See you there!
---
Need directions?
Southwood Lake:
Sunset Lake:
Exciting news! Cedar Lakes Phase 2 was registered by the City on February 4, 2016. Closings can now begin for purchasers who have already purchased in this phase as well as for new purchasers. We still have some beautiful lots left, so don't miss out. All lots are a half acre in size, many are fully treed and the waterfront lots have south facing backyards. If you haven't been already, it is definitely worth a drive through this community. Enjoy!
Available lots:
Lot 4 – $159,900
Lot 11 – $215,000
Lot 13 – $215,000
Lot 19 – $195,000
Visit the Cedar Lakes sales information page for more info.
---

Please contact the Sunset Lakes Developments office for more information: sunsetlakes@rogers.com // 613-860-1100
We hope everyone had a great holiday break and is enjoying the first few days of 2016!
What's new this season?
Update on Cedar Lakes Phase 2
Pending Decision on Cedar Lakes Phases 3-5
NEW Proposed Plan of Subdivision
Click here to view the Winter Newsletter!
Issue 11 Newsletter: Last Days of Summer Sun
These sunny summer days are coming to an end, as we welcome the changing colours that autumn brings. See what we have been up to at Sunset Lakes Developments – have a look at our end of summer/beginning of fall newsletter!
What's included:
3 reasons why you should choose to live in a Sunset Lakes Developments Community
Community Learn to Ski Night Review
Lot Updates
Community Amateur Photo Contest Results
Click to view our Summer/Fall Newsletter!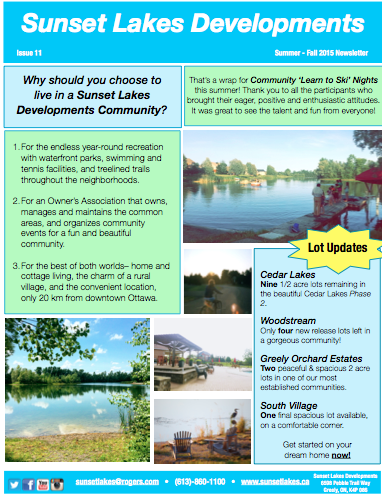 Until June 30th we are encouraging members of our Sunset Lakes communities to share their best community photos with us!
There are 3 photo categories:
Having Fun in the Sun – enjoying your pool, cooling off in the lake, staying active on the courts, walking the trails or other summer fun…
Scenery – your perfect sunset shot, your lovely backyard view, or showing off your picturesque community…
Landscaping & Garden – a chance to show off that beautiful garden, amazing water feature, or patio pizzazz…
Here is a glimpse of some beautiful shots sent in from community members.
Check out the latest photo submissions on our Facebook page!
Loading
Subscribe to our mailing list:
---
Members of the mailing list will receive news and updates for Cedar Lakes, as well as information on community events, new lot releases within our communities and Sunset Lakes Developments updates.
---
Sunset Lakes Developments…Building Communities in Ottawa's South End